37.839640, -80.971544
37°50'22.7"N 80°58'17.6"W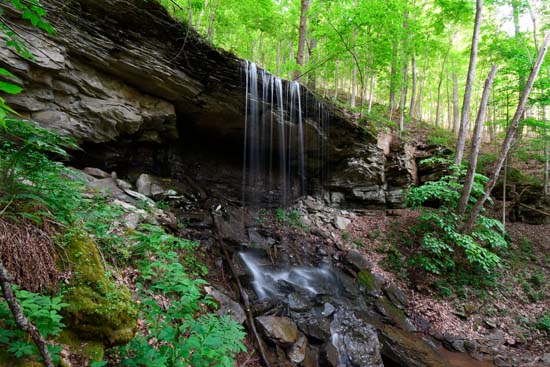 I initially began looking for this waterfall the weekend of 09 May, 2020 with Amanda Fisher, Darian Spears and my travel bud, Jim Kearns. Unfortunately, due to an error in reading the information given by Dave Green, who is the person that clued us in about this place in the West Virginia Waterfalls Facebook Group, we ended up going down Camp Branch, which was not totally a bad thing, but this waterfall isn't down there. The following weekend Amanda and Darian returned, determined to find this place and they did. It turns out there is a primitive camp somewhere near the end of the road at the top of this ravine where you can park and begin your "slide" down toward the New River. When I say slide, I don't think that's too much of an exaggeration because looking at the topo, it appears to be almost sheer drops in some spots and the report back from Amanda and Darian would indicate the same.
So, I stole a screen cap from Darian's go pro vid that they posted on YouTube but Amanda said there may be more photos coming as there are several other major falls on this run. You can see the video on YouTube here.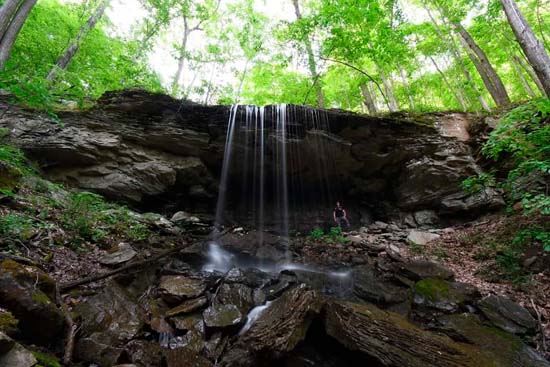 This is the screen cap from the YouTube video of one of the falls down stream.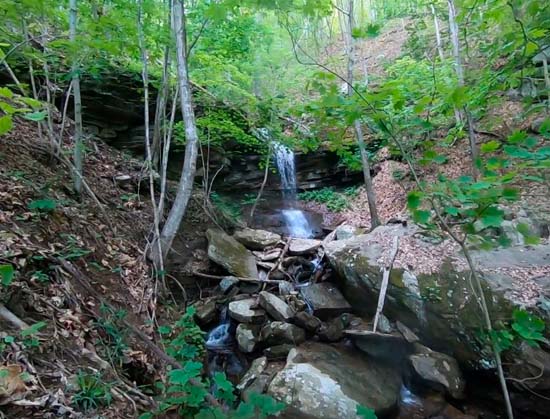 So here's a topo of the ravine where these falls are. This is not for the faint of heart or rookie gorge trekkers. This is a dangerous place with very, very steep places and loose footing. You are best advised to bring rock climbing equipment when venturing down into this ravine. It's pretty much vertical all the way to the river. Just look at the topo and compare it to some places that you have been before you decide to get yourself trapped down here, because there is no cell coverage and gettin rescue people in here will take a long time and they're liable to bill you for it as well.