37°45'34.5"N 80°54'18.2"W
37.759576, -80.905056
Directions to Sandstone Falls Parking area. From I-64 take exit 139. At the end of the exit turn left on WV 20 and drive for about 11 miles into the town of Hinton taking a left on 2nd Ave. and then an immediate right and go across the bridge. On the other side of the bridge turn right. (Madam Creek is just here on your left). Drive for another 8.3 miles after crossing the bridge to the Sanstone parking lot.
Once here, there are restroom and picnic facilities. Walk out onto the boardwalk to get out into the river and in the thick of it all. Even in low water, you will get wet if you want to get out on the rocks for the upclose and personal experience of Sandstone Falls. Go to the end of the boardwalk to the overlook, then look up river to plot a course to get out on the rocks. If the water is high, you can still do this without much trouble, but you have to be careful and bring your hip waders or just get wet. Footing in the backwaters is iffy even at low water, but with the rush of high water, it makes it more difficult.
Anyway, you can get right out where ther falls are crashing and walk along the precipice and photograph till your hearts content. You can spend a whole day here easily.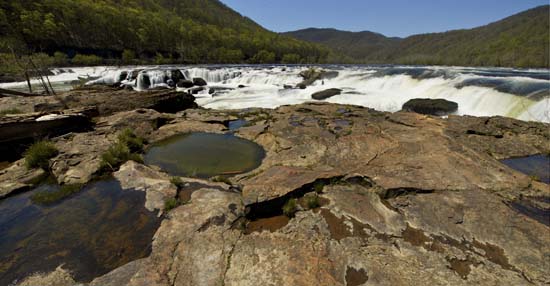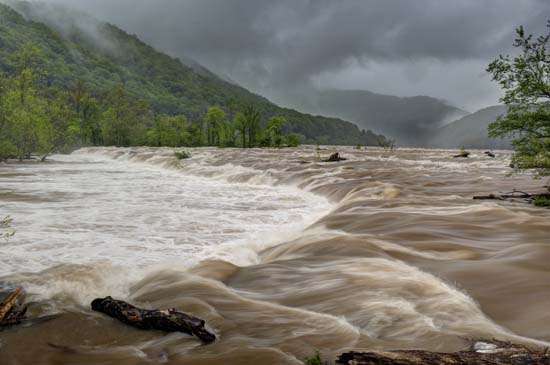 You'll find isolation shots all over the place but this is one of my favorite spots. Wish I could tell you exactly where it is, but not sure if I can describe. You'll see it if you venture in.