37°58'32.9"N 81°06'32.1"W
37.975795, -81.108924
Arbuckle Creek has a number of nice waterfalls and can be travelled from either end. If you're just going for the walk, it doesn't matter, but if you just want to catch some falls or see the creek, follow these directions. There's a parking area at the end and you just walk down the Rend Trail and then come back up.
From US 19 at Oak Hill, exit East Main St. and follow Main St. East (CR 16) away from town (north). Across the street from and just past the BP station take a left on Minden Rd. (CR17) and follow 2 miles. Turn right into an open unpaved area and park at the trailhead for the Rend Trail. At my last visit in February 2017, the trail was posted closed at 1.27 miles in from the Minden side due to structural failure of one bridge. Please check the National Park Service website or contact by mail or phone. P.S. There are no signs for the trailhead to Rend Trail in Minden.
Mailing Address:P.O. Box 246 104 Main Street Glen Jean, W.V. 45846 Phone: (304) 465-0508
You can also visit the new visitors center at the above address as well for more information on this area.
You can also pick up the Rend Trail on the other end from the designated parking area on Thurmond Rd., along Dunloup Creek. It's pretty obvious and it's not far beyond Dunloup Falls. It will walk you all the way down to the river, then left down the river, and left up Arbuckle Creek. Probably best to have a car at both ends if you're going to hike the whole thing unless you don't care and want to walk both ways. That's if the bridges have been reopened on the Rend Trail. I suppose you might be able to find a way to cross Arbuckle Creek at the bottom and walk the waterfall trail back up to ACE, but I have not done that and it's only a guess.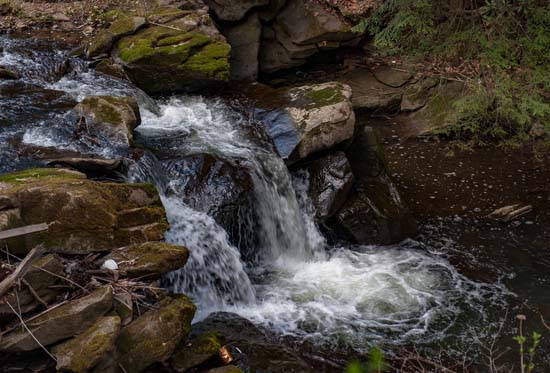 A third option is to drive in beyond Minden into the ACE Adventures complex. Just before entering you will find a small parking area at the trailhead for the "Waterfall Trail". Follow the "Waterfall Trail" downhill to Arbuckle Creek. The first fall will be "Finn's Falls" on a short side trail. Don't know where they got that name but it is also listed in the newly published "West Virginia Waterfalls Trail" guide by the West Virginia Department of Tourism. Further on down the trail you will come across several other bad ass waterfalls, but getting down into the creek to see them is iffy at best. I had to risk my life to get this photo, which is just below Finn's Falls, and the falls just below it is no better.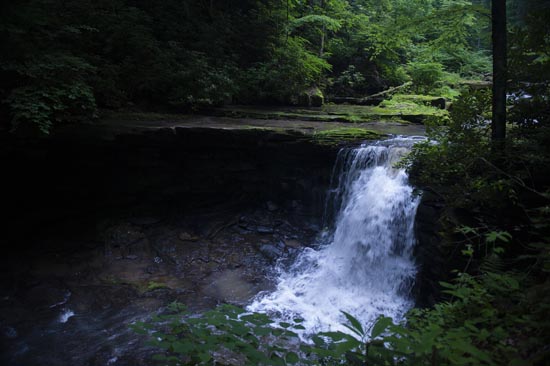 Finn's Falls
37°58'05.5"N 81°05'52.8"W
37.968186, -81.097998
Finn's Falls will be the first fall you will see and is off on a side trail as you travel down. There will be a sign. There's a bench and a picnic table at an overlook there. The waterfall trail is like two miles or better, downhill, and is rocky and muddy, but pretty.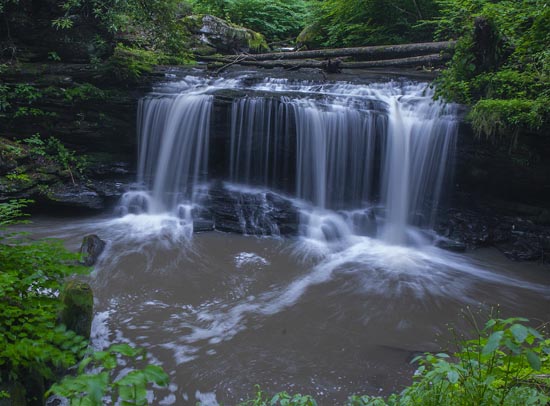 The entire arbuckle Creek area is inhospitable to hikers as far as getting in the creek. The banks are very high and steep in almost every spot. On the Rend trail several of the bridges are damaged and gated and there is no way around them unless you are Superman. I think the best bet, from what I can tell from my explorations, is to follow the waterfall trail from ACE or just jump in at the top and creek walk the whole thing down to the New River. Good luck no matter how you choose to visit this beautiful domain.