37.47873, -81.04957
37°28'43.4"N 81°02'58.5"W
Above GPS is the confluence of White Oak Creek with Bluestone River. This fall looks to me to be about 130' top to bottom (that's my guess, but may be as much as 200') and is not for the faint at heart if you plan to scale the rocks to the top as did James Selleck in the image below. Starting with a fairly mellow and basically flat and level trail, the 2 mile hike to the falls from Brush Creek falls parking lot, is a gorgeous walk along Brush Creek and Bluestone River, with Brush Creek Falls at the first 1/4 mile along the way. There are several other small but good looking waterfalls that you will see as you walk along Brush Creek, but none of them seem to be easy to access from the trail. You will come to the confluence of Brush Creek and the Bluestone River, as it bends around. Continue on the trail. You won't have to look for this fall as it intersects the trail, so don't think you have missed it. When you reach the end of the trail you're on the Bluestone River. The upper falls is barely visible at this point. There are several smaller falls and cascades coming down from the top. Getting to the upper falls requires some effort and your best cat like skills to navigate the rock and trees. Achieving the summit is worth it, but be warned that it is dangerous.
Photo by James Selleck, Sr.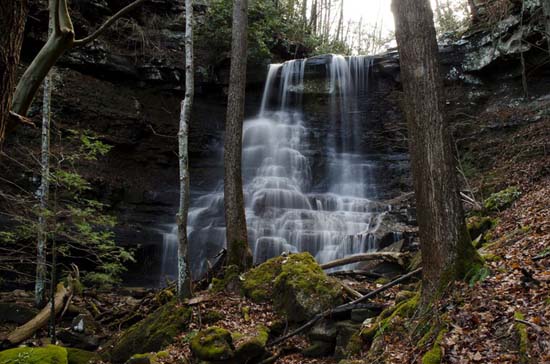 Photos by Rick Hartigan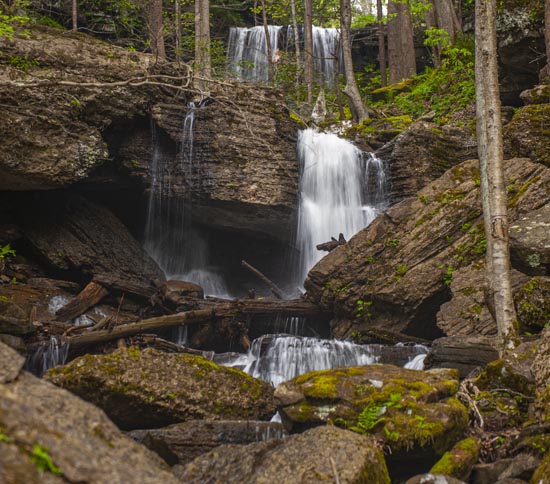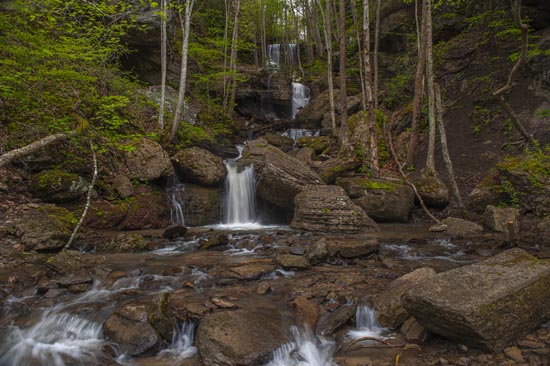 This last shot is from the very bottom down by the Bluestone River.