38.243485, -80.659154
From Nettie, drive east on WV 20 for 1.6 miles and go left onto Panther Creek Rd.
I was at first very enthused about checking this waterfall out, and it does seem to be a nice one. About a 30' - 40' drop. The only problem is that it is across a pretty fast (make that 2) moving creeks and not sure but it's probably also private property. Looks like some major runoff from the top of a mountain as well. Not sure what that's all about, but there is an air strip up there as well (Richwood Municipal Airport). Just down stream are a couple of poured concrete drainage ditches coming down the mountain as well. Lots of water coming off this mountain. Not sure what's going on up there, but bet this falls is subsistent upon the runoff from the top of this place. It's all roadside. Just drive down Panther Creek Rd. It'll be on your right. The GPS will get you in the ball park. Everything else is evident if you look.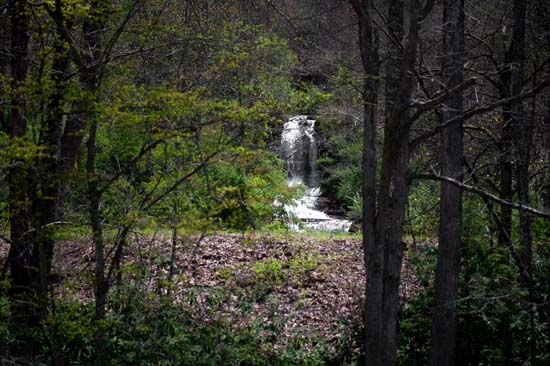 OK, the thing you need to know about this image is that is was shot from the road, through the trees, hand held. In the image, the foregroud disguises a creek. It's a raging creek at the time I shot this. Panther Creek. Coming off the hill in the background is the waterfall, which appears to empty into another creek, or a split of Panther. The point is, you have to cross two creeks to get to the base of this falls. News flash, there is another falls pretty close down stream that looks alot like this one. Just walk the creek and you will see them both across the double creek on the hillside.