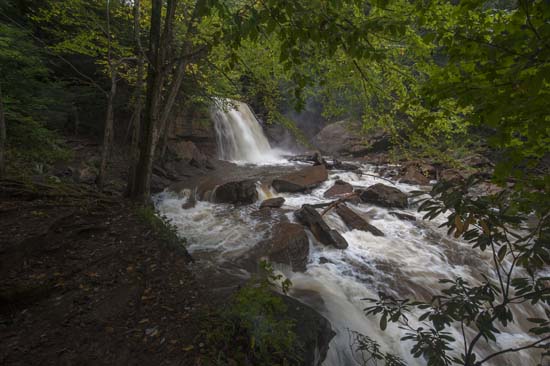 39.123965, -79.519832
39°07'26.3"N 79°31'11.4"W
Blackwater Canyon Trail
Thomas, WV 26292
Douglas Falls is just outside of Thomas on the North Fork Blackwater River.
Thomas is kind of a cool little place that comes to life in the fall when they have a festival. Lots of music and art, etc. and some good food too. Don't expect cheap prices though, things are not cheap in this area. However, there are a number of excellent and interesting places to visit in the small town of Thomas, not the least of which is The Purple Fiddle, which has some really good ice cream in waffle cones, excellent line up of micro brew beers, and the food is overall pretty good. You won't be disappointed.
From the downtown go south on US 32, take a right just as you leave the downtown, on Douglas Road. Follow Douglas Rd. for one mile. It will bear right just in front of the Buxton & Landstreet Gallery and Studios and head downhill a bit. Follow it around and just after it crosses the river, it forks. Take the left fork. This is Rail Falls Rd. It's a dirt road but it's cool for cars. Drive .9 miles and along the way look for the old abandoned coke oven domes along the side of the road. There are lots of them.
Albert Falls
39.128489, -79.520561
39°07'42.6"N 79°31'14.0"W
Albert Falls is roadside not quite a mile from where you turned onto Rail Falls Rd. There will be room for one car on the side of the road and no more.

For Douglas Falls continue on down till you get to a funky bridge. It's kind of dubious looking, and you can cross it if you want. Lots do. I always park here and walk.
After parking, follow the road along the river and you will soon be in the woods. The falls is immediately on your left as you walk and there is a descent right at the falls. Look back up the creek above the falls for some nice shots as well. This one lays just above Douglas as you enter the woods. It's an interesting spot.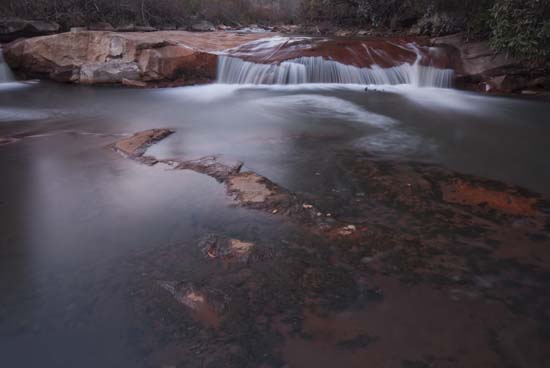 Further down stream are a host photographic opportunities. Downstream you will find a lot of good shooting. It requires some rock hopping and maybe some creek wading, depending on the flow.
I recently saw some images of several other falls that I have not personally seen, but have obviously walked by them on my way to Kennedy Falls. However, entry to the river level is quite dangerous, as the gorge walls are basically sheer and there are no real trails. It would probably be a creek walk to get to them safely and that's being optimistic about getting there. Regardless, they exist and are unnamed.
There are additional falls down stream as well and along the trail. This is the Blackwater Canyon Trail and is about 7 or 8 miles long. It terminates on SR 72 in Hendricks. Tub Run (39.097714, -79.549573) and Big Run (39.094875, -79.567830) come down off the hill side onto this trail, as do a couple others, so I've heard, but they will probably only be impressive during heavy wet weather, so, not sure about the long hike to see them. You be the judge.