38.211222, -81.033556
38°12'40.4"N 81°02'00.8"W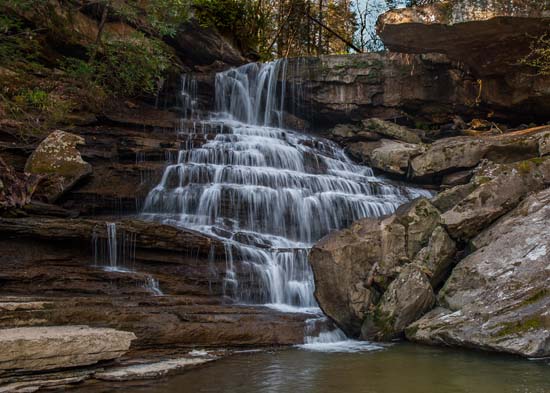 Laurel Creek empties into the Gauley River downstream of Woods Ferry Crossing. If you turn left when you get to the river and follow the rail trail, you can bushwhack up Laurel Creek. I hear it is worth it, as there are numerous good looking waterfalls on this creek. HOWEVER, I have no knowledge of the current conditions of the road in that direction and would advise if you wish to visit Laurel Falls, you follow these instructions and maybe creek walk from the top.
This fall is a bit of an adventure and you might think you hear the banjos playing in the back of your mind, if you get my drift. Start on US 19, where a lot of good things start and go 4.5 miles east on the Midland Trail (US 60) and turn right on Saturday Rd.
NE on Saturday Rd. (Hopewell) for 6.4 miles
Make a sharp left onto Lucas Rd. (Intersection has triangle island and you will cross Laurel Creek almost immediately. Now you have Laurel Creek on your left.
Continue to a church on the left after 1/10 mile. Continue on hard top road for 1 mile.
At a sharp turn to the left at the crest of a hill, continue straight onto a gravel road. Lucas Road follows Laurel Creek, now on your right. You will cross the creek again in .5 mile, now on your left. At 1.4 miles from the start of the dirt road, you will come to a fork in the road. Go left and immediately cross Laurel Creek again, now on your right.
All together it's two miles on this road. When coming to junctions in the road, choose the path that travels downward and follows the creek in it's descent to the Gauley. Stop and park at a wooden structure on your left below some sandstone cliffs. From here you will have to find a way down into the creek. I went about 100 yards down stream from the structure to scramble down. It was a bit tricky and in places the ground wants to slide out from under you, but it's definitely doable.