37.88176, -81.05674
37°52'54.3"N 81°03'24.3"W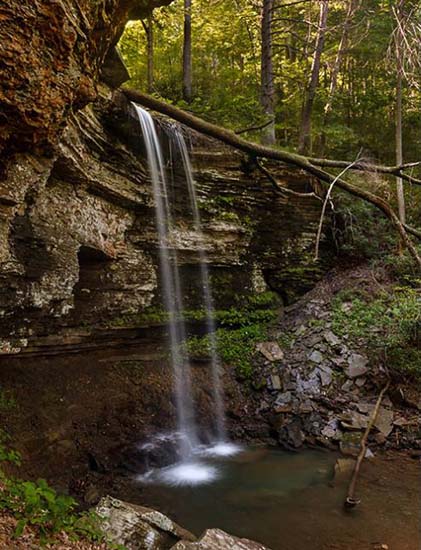 If you're up for a bit of an adventure, get on Thurmond-McKendree Rd (CR 25) from Thurmond, and head east for about 10 miles. The road does a real sharp turn to the right after it heads inland from the river. Right at the apex of the curve is Dowdy Creek.
I went down this road on 19 May 2015. I had spoken to a ranger and they told me it was not being maintained beyond Thayer. That was abundantly clear when I got to the Slater Creek crossing. The road had such deep and wide holes in it, and they were so close together, that I dared not venture forward. Looking down the road as far as I could see, gave me a sense of foreboding. I have a relatively high clearance 4WD truck and I had visions of being swallowed up in the very first hole. My advise, if you want to see this fall is to bring an ATV, paddle or hike.
There is a river access at Thayer if you want to paddle upstream, or you can put in at Prince and paddle down stream, but you can also walk the CR 25 for three miles from Slater Creek to Dowdy Creek. You can also access CR25 from the other direction beginning at Prince. It's about 3 miles as well. I drove this in 2016, and quickly turned around before going a mile there as well. This is the worst road in W.V. that I have come across. No matter which way you go in, don't drive anything that's not high clearance, and I would not recommend anything that isn't 4WD. This is probably why they invented ATV's.
I've included two images courtesy of David Johnston, because these are probably the best and only images you are likely to see of this falls. Unfortunately, according to my sources, this place was pretty well trashed by the storms of 2016 and is no longer photogenic. Given that and the difficulty of getting there, this may be all you will be able to enjoy.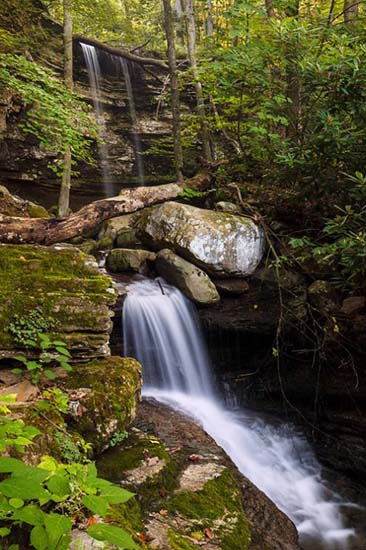 From Wikipedia: "Dowdy Falls is among the most spectacular falls in West Virginia, though also one of the least accessible. Near the mouth of Dowdy Creek on New River, the falls drop 50 feet over a first overhanging ledge, then divides in two and drops another 40 feet over a lower overhanging ledge. Access to the falls is safely limited to approaching the falls by kayak or whitewater raft from the mouth of Dowdy Creek on New River then following the stream through a railroad tunnel. Hikers may descend a steep unmarked trail along the side of the gorge from Thurmond-McKendree Road (CR-25) below Dowdy Bluff. Though within national parkland, the park service limits publicizing the falls because of the dangerous access.
Visitors should use extreme caution and avoid private property, which includes the right-of-way of the (active) CSX rail line."
David S. Johnston Photos

David S Johnston - "Rick, you may also be interested that I found a way down to the falls that is easy-peasey, as an alternative to the path that I have seen cited in web descriptions (which I never did find anyway!)

Instead of going down the very steep north side of the Dowdy Creek ravine, I discovered a series of ramps (no doubt old roads) starting from the south side. These switchback down to right above the south side of the upper falls, after which there is just a short scramble down the slope to the base of the falls. There was a faint but followable path, indicating that others have used this route. It may be more environmentally friendly than the north-side path, which I gather runs straight down the slope."
It's been a long time since I've taken a stab at Dowdy Falls. On March 26, 2022, I tried again. This time in the company of three friends. I had tried to drive in from both directions before, but, frankly, the condition of McKendree Rd. is probably the worst I have ever seen anywhere and I've been down some very iffy roads in my truck. I was prepared to walk McKendree Rd. to the falls if I had to and that was the agenda at the beginning of this effort. However, I spoke to a friend and did some more research on approaches to this waterfall, and decided to walk the service road along the rail tracks. I found out about this approach from the "Trackside Photographer's" Website and decided this was the best approach in spite of it being illegal to trespass on the railroad's right of way.
I invited my friend Kirt Wright and along with his wife and my friend and traveling companion Jim Kearns, we set out from the Prince AmTrak Station and hiked the 2.6 miles through the pitch black Stretchers Neck Tunnel, and down the flat and level gravel service road along the tracks.
I'll warn you all that the tunnel is not for the faint of heart and it is dangerous. It's probably best to hang out and wait for a train to go by before heading into the tunnel. There is a fairly wide service road next to the tracks, but a train going by while in the tunnel might put the fear of God in you. There isn't anywhere to hide.
During our hike we witnessed 4 different trains go by and three maintenance or inspection type vehicles.
The creek is obvious and hard to miss but getting to the upper falls (I was unable) is very dangerous and difficult. I was happy to come away with a shot of the lower falls, though it was disappointing not to be able to visit the upper falls.