37°30'15.0"N 81°07'52.9"W
37.504165, -81.131349
Camp Creek State Park is located in the southern part of West Virginia, between Beckley and Princeton. From the West Virginia turnpike, (I-77), take the Camp Creek exit 20, onto US 19 south and follow less than one mile to the park access road. Remain on this road for approximately 1.5 miles until you enter Camp Creek State Park.
Mash Fork Falls
37°30'02.3"N 81°08'31.9"W
37.500625, -81.142186
When you come into the park, you will be going to your left for Mash Fork. There are signs and it's a short drive or walk and no hike once you get there.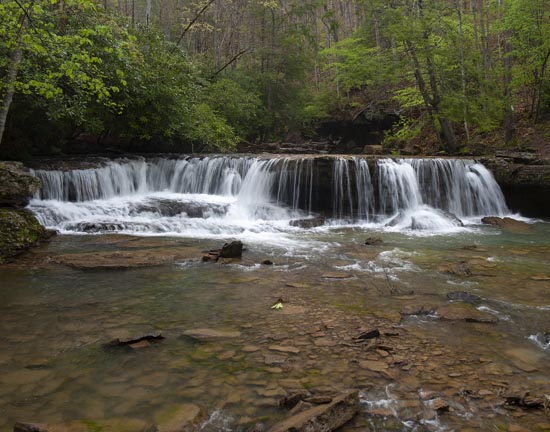 Campbell Falls
37°31'04.2"N 81°07'46.0"W
37.517830, -81.129456
Entering Camp Creek State Park, follow the road to right at the split for Campbell Falls. Road may be gated at Blue Bird Campground. Park there and walk the remaining .3 miles to the falls. I was able to drive right up and parked right beside the falls.
I have seen images of other falls on Camp Creek and the maps indicate a road that follows the creek for some way. Might be worth a drive or hike.