38°39'59.2"N 80°21'13.3"W
38.666433, -80.3537
Holly River State Park is located on WV 20, 32 miles south of Buckhannon and 20 miles north of Webster Springs. Interstate 79 running north/south through central West Virginia offers access to WV 20 at several points. Many thanks to Michael Harvey, Park Super who showed us around the park on his day off. Thanks Michael.
Tecumseh Falls
(38.677612, -80.349532)
A must see and a nice walk. Just a bit over a one mile hike on the Revere Trail. Pick the trail up near the campground check in and the bath house. It's a yellow blaze trail. Pretty easy walk with an uphill toward the end by the falls.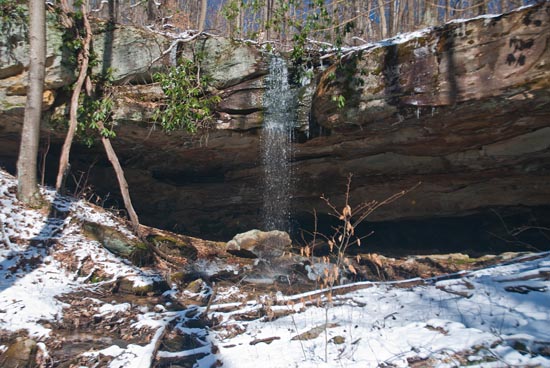 Tenskwatawa Falls
(38.65486, -80.33776)
Tenskwatawa Falls drop 10 feet over an overhanging ledge in Holly River State Park in Webster County on Tenskwatawa Branch, a tributary of Left Fork of Holly River. A trail leading to the falls allows hikers to stand behind them. Tecumseh Falls drops over a similar ledge on another stream in the park.
Upper Falls
(38.635598, -80.321946)
Just under 35 miles south of Buckhannon, WV in Hacker Valley on WV20. Turn into Holly River SP on Left Fork Holly River Rd. (CR 3). Do not bear left toward the park headquarters, but go straight, passing the park maintenance facility on your right and drive 4.8 miles to a parking area. Walk down the ramps and steps into the creek in front of the falls.
Access to the Shupe's Chute and the Lower Falls is from this same parking area. Follow the trails from the parking area. Please visit the park office for a map of trails and information on finding these falls and say hi to Mike.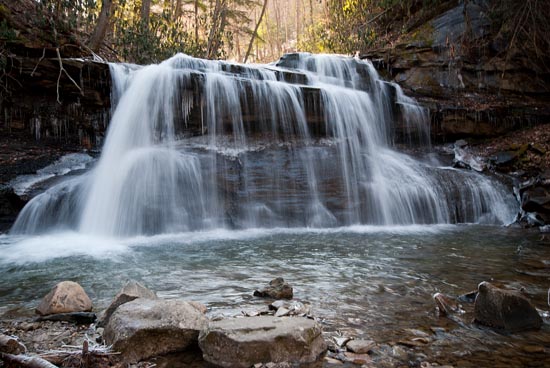 Brian Wilson Rick Hartigan, most often I see it called Upper Falls of Holly River. It is not on the Holly River, but on Fall Run. Does it should be called Upper Falls of Fall Run. There is a smaller lower falls before Fall Run runs into the Left Fork of the Holly River about a half-mile downstream. I did see that in your book you just call it Upper Falls. Though there are probably as many Upper Falls as there are Fall Runs. So for lack a unique official name, I suppose it should be referred to as the Upper Falls of Fall Run in Holly River State Park, or since the lower falls on the same creek are small, just Fall Run Falls in Holly River State Park
Brian Wilson I did double check the parks own map, and I see they call it Upper Water Falls. It is unclear if that is a name or just a description, as the unique named Falls have a waterfall symbol by them on the map, but upper waterfall and lower waterfall do not.
Shupe's Chute
(38.634409, -80.322289)
Lower Falls
(38.635202, -80.323197)