Twin Falls State Park
37°37'19.8"N 81°27'32.6"W
37.622177, -81.459067
Twin Falls State Park is home to two handsome waterfalls.
Marsh Fork Falls and Black Fork Falls are both in the 8–10' range and worth the short hike to get there. The park has many accommoda- tions for camping, lodging, hiking, golfing, and viewing wildlife. Make sure and checkout the pioneer homestead. It's a worthwhile side trip while you're there. Very photogenic.
Twin Falls State Park is located southwest of Beckley. If you are traveling either north or south on I-77 or east or west on I-64 you'll pass through Beckley, West Virginia. I-77 and I-64 run together there and these directions will get you from I77/I-64 to Twin Falls Resort State Park.
Exit I-64/I77 at Beckley, West Virginia at Exit 42(marked Beckley and Robert C. Byrd Drive). From Exit 42 it is 28 miles(45 minutes) to Twin Falls Lodge.
From the Exit Ramp turn right onto SR 16 South/SR 97 West (marked Sophia, Mullens). Drive approximately 3.5 miles on SR 16 South/SR 97 West This is all 4-lane road.
Bear right onto Rt 54 South towards Mullens.
Drive approximately 15 miles on Rt 54 South.
At Maben, about a quarter of a mile past Maben Easy Stop, turn right onto Rt 97 West.
Drive 5.5 miles on Rt 97 West. About a quarter of a mile past the Exxon Station you will come to a STOP sign. Turn left onto Bear Hole Road. It is 4.1 miles to Twin Falls Lodge.
Falls Trail: Starts out on a paved trail to the first falls, Marsh Fork Falls, then breakss into a loop going down along the creek to the second of the two twin falls, Black Fork Falls, and then curves back on itself on an old park road. Moderate rolling trail with varying terrain. Total Distance, 1-¼ miles. Directions are courtesy of the state park website. GPS above is for parking lot.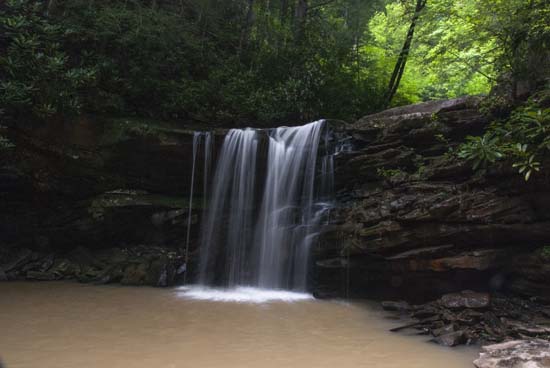 Marsh Fork Falls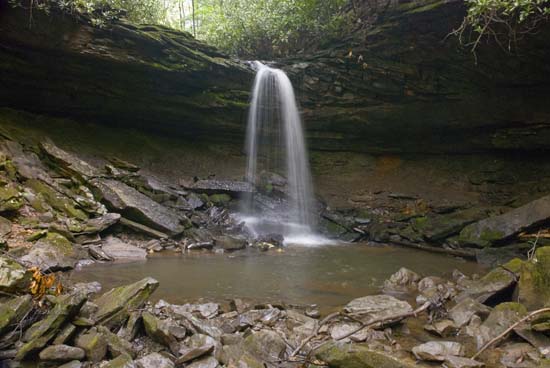 Black Fork Falls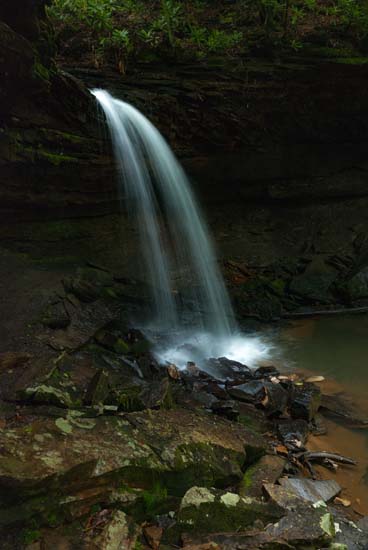 Black Fork Falls