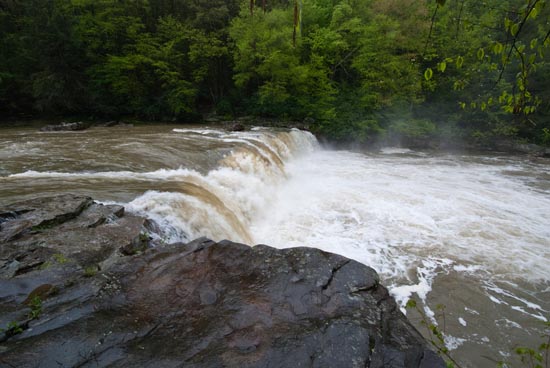 From Interstate 68, take either exit 15 or 23, depending on which direction you are coming from. Continue on County Route 73 until you reach Laurel Run Road. This is a paved road, but it is a bit rough. After a half mile, take the first left on to George Walls Road. This is a narrow unpaved, road, and has several rough spots. The road wends its way through farm lands. After a mile, the road becomes very rough and starts to descend. This is as far as I felt comfortable driving, but a four wheel drive vehicle could keep going. The main thing you would to worry about is oncoming traffic, as the road is only one lane wide.
Continue down the road for about 1.5 miles until you reach a fork on the right. This "road" is hardly any rougher than the main road, but it does not show up on Google maps. Follow this for about a mile, and you will reach the falls. At some point this trail probably gets too rough and narrow for most vehicles other than ATVs.
A short distance beyond the fork you will reach the bridge over Big Sandy Creek. The bridge is interesting, and the river is pretty, but you will have to back track to find the road to the falls.
There is a clearing above the falls that is obviously used a party spot. Some of the trees and shrubs have been cut down to provide a clear view of the falls. You can easily reach the edge of the falls, but there did not seem to be any easy way down into the gorge below the falls.